Category: Hair Care
If you have 8-12 extra inches of hair hanging around it would be great to donate it to a great cause. There are several companies that will take your hair and make wigs for people that need them.  Wigs For Kids takes 12 inches of hair and provides free wigs to kids suffering with hair loss.  Locks of Love will take 10 inches and provides wigs as well.  They are free to qualified applicants.  If applicants exceed the income limits they are asked to contribute to the cost of the wig. Pantene Beautiful Lengths will accept 8 inches and also provides wigs free to those to need them.  So if you're ready to change your look and help someone in the process give us a call!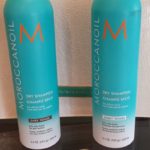 Shampooing less is always a good idea. Your hair will be healthier and your color will stay more vibrant.  We love the Moroccan Oil Products so much!  This is their dry shampoo.  It comes in 2 colors. Dark Tones  for dark hair and Light Tones for blondes.  I like to spray on my part and around the hairline where my hair can be the oiliest. Just wait a couple of minutes and work it through your hair.  It does a great job of getting you through another day!  It also adds some body to your roots as well.
My name is Brooke Rockwell and I've been in the beauty industry 30 Years this year!!! I can't believe it's been that long.  I love everything about hair and skincare.  My salon has been open 23 years this year and I've tried alot of hair related products and tools.  Some good and some not.  You don't know until you try them. I hope that my tips can help you.
While I have clients in my chair we chat about the best products and new techniques for their hair.  Sometimes the most simple suggestion or change about what they are doing can make the biggest difference.  I can't wait to share with you some of my favorite products and styling advice!
It seems that winter has finally decided to step up and give us freezing temperatures.  I know my hair gets so full of static because we turn up the heat in the salon and in my house. It's so important to get moisture back into your skin and your hair too!
Hair becomes full of static because it lacks moisture.  Our favorite product for this is "It's a 10 Miracle Spray". Use on wet hair before you comb and it detangles, repairs, moisturizes, protects from heat and prevents breakage.   It really is a miracle!